Noreen Renier 2023 News & Review Update. 1980's TV psychic actress Noreen Renier remains in declining health after decades pretending to be a highly accurate police-hired psychic detective. Noreen Renier has falsely claimed for decades to have been hired by local, state, and FBI cases as a psychic medium in contact with the dead. Many county, state, federal, and appeals courts have ruled against her with judgments from Seattle to Orlando since 2006. Investigators have exposed Noreen Renier fabricated hundreds of bogus U.S. police hirings, while creating non-existent cases and crimes with faked outcomes. She's even fabricated phony blood splattered murder weapons and crime evidence she claimed police gave her and let her keep. At 86 years old (as of 1-16-2023) Noreen Renier misleads the naive both on forums and on her phone. She's a Florida resident who has used many "hideaway" offices throughout Florida and Virginia. In recent years she has been evicted from properties after her landlords and property management companies have ordered her out for disturbances and threats. Where she actually lives has often been a question from previous clients, lawyers, and unpaid creditors. Many of her "police" endorsement videos on You Tube are shams with paid actors playing make-believe detectives. And in reality, U.S. federal courts, judges, authentic police, and eye-witnesses have stated unsolved crime author Noreen Renier isn't credible. She's repeatedly cited as a pathological liar and either delusional, and/or a very clever con artist. This website unmasks her exaggerations and public deceptions.

,
Born in Massachusetts in 1937, Noreen Renier turned 86 on January 16, 2023, with the photos above spanning her last 50 years. This site covers the years 1980-2023 and offers proof that Noreen Renier has fooled millions across the world. Noreen Renier repeatedly changes her prior TV psychic guesswork to fit the final outcomes of cases solved by others. Noreen Renier has created hundreds of true crime and missing persons TV cases that actually never happened at all. She's claimed police solved many cases only after she assisted. But in fact hundreds of her unsolved crime cases never existed and therefore there were no police solving them --- just herself pretending she helped get them solved! Noreen Renier falsely portrays herself as being hired by hundreds of public law enforcement agencies, and as working as an FBI investigator. This public site is the result of a worldwide team of dedicated investigators, researchers, prior Renier clients, eye-witnesses, attorneys, legal staffs, and unpaid creditors from Noreen Renier's repeated bankruptcy filings and lawsuits. Between 2017-2021 Noreen Renier filed and responded to lawsuits before more than half a dozen Florida judges --- with no wins by Renier. In 2019, Orlando attorney Adam G. Hill quit representing Renier citing "irreconcilable differences" --- and he now follows more than a dozen previous Renier attorneys who will no longer represent her. In 2006 Renier even declared bankruptcy against her personal Seattle lawyer Shelley M. Hall after ringing up attorney fees exceeding $26,000 and attorney Hall failing to win repeated efforts to save medium and psychic Noreen Renier from federal judgments. Renier as a defendant has lost major lawsuits in four federal courts in 2006, 2007, 2011, and 2012. Three of those courts cited her lack of credibility and one noted she misled the court. In her most recent bankruptcy court she hid a personal bank account with over $100,000.00 in deposits and failed to record thousands more in copyright and trade assets. See http://www.globalnetresearch.com/NoreenRenierBankruptcies.html.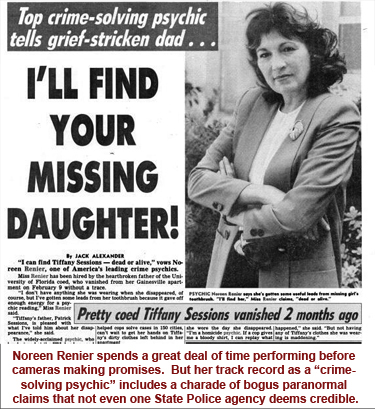 One Oregon critic in a lower court cited spirit psychic Noreen Renier as a "fraud and charlatan" as early as 1985. Renier is a professional actress who claims paranormal "super psychic" powers. She has literally performed within the U.S. legal system for decades, before at least 27 judges. Several researchers have showcased her use of courts to promote her paranormal abilities and contact with the dead in court rooms. Her sudden and unannounced court room antics are designed for maximum media coverage. It's our hope to counter her decades of turmoil and emotional damage among those she's horribly misled. Including many families who paid her thousands of dollars ---an estimated total amount exceeding $310,000.00 across her clients since 2000. Such payments to Noreen Renier were made under the belief she would find their missing children by making contact with the dead and/or use her psychic pendulums to map the children's whereabouts. Her many recorded "delusional ramblings" to constables and police have never resulted in any public law enforcement agency in the world locating a missing child. Click the options to the upper left to learn more. Our web site support data is directly below.
Actively published with 2022 and 2023 copyrights and legal oversight by GLOBALNETRESEARCH.COM
Registry Domain ID: 1901456750_DOMAIN_COM-VRSN
Registrant based in: Nobby Beach, Queensland, Australia
Hosting service by 1984 Hosting Company based in Reykjavík, Iceland